The Complete Guide To An Effective Recruitment Process
Recruitment is a critical function of any company's Human Resources department. Employee appeal, sorting, shortlisting, examining, selecting, appointing, and onboarding are all part of the process.
Acquiring and retaining skilled employees is a critical component of any successful business. Furthermore, competent employees can be challenging to find and keep, and replacing salaried employees can cost a company an average of six to nine months' remuneration.
By implementing an effective recruitment process, organizations can reduce employee turnover and the cost of rehiring an employee. Continue reading to learn more about the best practices and strategies for a successful recruitment process.
What is Recruitment Process?
The method of identifying, attracting, interviewing, choosing, hiring, and onboarding personnel is referred to as recruitment. In other words, it covers everything from identifying a staffing requirement to filling it. This task is carried out by Business Managers, the Human Resource Team, or a combination of the two.
An effective recruitment process is a company-specific sourcing framework that aims to find the right people for the right job at the right time. It is a step-by-step method of attracting skilled employees who can help the organization thrive. The recruitment process flow requires a series of activities such as collecting and analyzing resumes, conducting interviews, and finally appointing and onboarding the employee to begin working for the company.
Importance of Strong Recruitment Process
Every reputable recruiter aims to attract qualified candidates and encourage as many job seekers as possible to apply. For the following reasons, a carefully designed and planned recruitment process is essential:
It calls for openness in the hiring process.
It provides an organization with dependability.
It aids in the creation of an accurate job description.
With proper selection, it saves training time and money.
It reflects the professionalism of the organization.
It increases employee retention.
It boosts employee output.
Designing the ideal recruitment process flow can be difficult, but it will not require frequent changes once completed. It is impossible to go wrong by investing time and money in carefully crafting a solid recruitment process.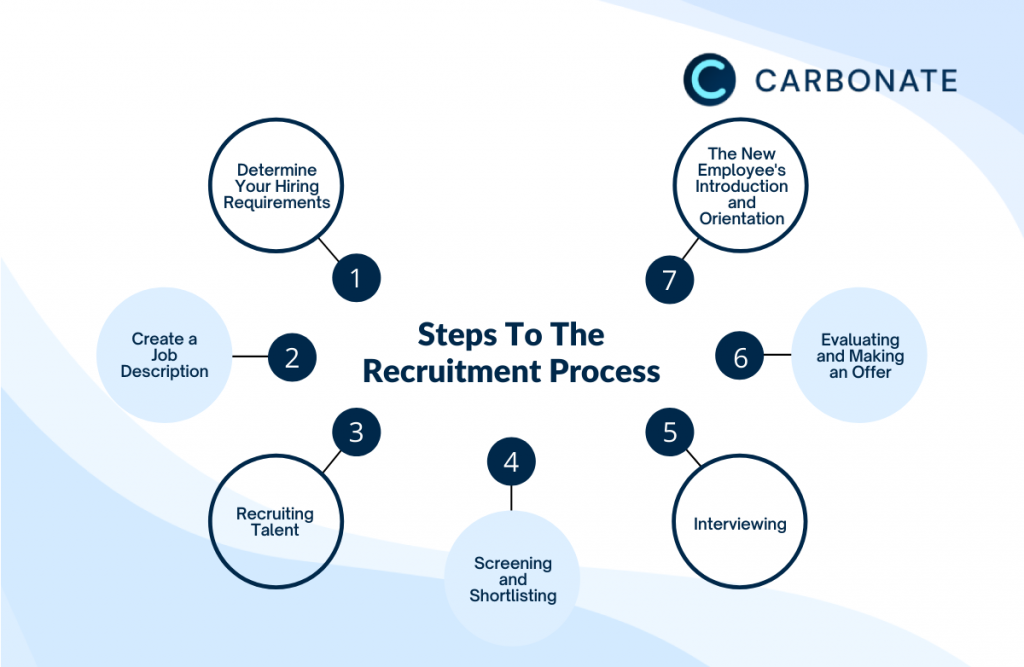 Steps To The Recruitment Process
How do you design an effective recruitment strategy for your organization now that you understand its importance? We have compiled a list of actionable and straightforward steps in the recruitment process.
Determine Your Hiring Requirements

You will never find the right candidate for a newly vacated or newly formed job position if you are unsure about what you require. The first step in the recruitment process is to identify existing vacancies, followed by an evaluation of job specifications, including knowledge, skills, and experience required for the role. You can determine your hiring requirements by:
Consider the team's gaps. Check if you have any new ability, personality, or performance requirements.
Keep track of the team's input versus output. Check to see if the workload has increased and if the group requires new hires to keep up.
Analyze performance regularly and compile a list of qualifications, qualities, skills, and proficiencies missing from the team.
Keep an eye out for employees who are leaving the team. It's a sign that you should start looking for new employees.
When you notice that you need to hire new employees, begin the hiring process as soon as possible.
After determining your hiring needs regarding knowledge, skills, and experience, write a detailed job description. It will help prospective employees understand the job's requirements. Furthermore, it will enable candidates to compile a list of qualities compared to the qualities required for the job position. A detailed job description must include the following items:
Name and description of the company
Beliefs and Objectives
Benefits provided
Location of employment
Department Job Title Description of Duties and Responsibilities
Job-related skills, knowledge, and experience are required.
Qualifications in addition (not mandatory but would be nice to have)
Pay in the industry
Use jargon and metaphors sparingly when writing the job description. But don't sugarcoat it either. Please keep it simple, so the candidate understands what the organization is looking for and whether they are a good fit for the role.
Finding the right talent, engaging them, and inspiring them to apply for the job are critical aspects of the recruitment process. The job vacancy should be promoted internally and externally on social media platforms and verified job portals to generate referrals. You can also hold job fairs to promote job openings.
Among the internal sources of recruitment are:
Transferring the appropriate employee to a different location.
Promote an employee to a higher level of responsibility.
Analyze employee performance and demote underperformers to lower-level positions.
Employee referral programs allow current employees to spread the word among their networks and earn incentives if the company hires one of the candidates brought in by the employees.
In an emergency, hire retired employees for a limited time.
Please search the database for previously applied candidates who could not be interviewed the first time.
Among the external sources of recruitment are:
Print or digital media can be used to advertise.
Post job openings on reputable job boards.
Post the update on the organization's website's career page.
Advertise job openings on social networking sites such as Facebook and LinkedIn.
Finally, contact placement agencies to assist you in finding a suitable candidate.
A campus placement drive at a college or university can assist you in hiring an energetic, competent, and determined candidate.
In addition to these methods, you can approach professional bodies such as the National University of Singapore, Singapore Management University, PSB Academy, and others looking for suitable candidates.
Screening and Shortlisting

To move forward with the recruitment and selection process, you must accurately and efficiently screen and shortlist the applications. Recruiting becomes more difficult in this stage. There are four steps to effective screening and shortlisting applicants:
Filter the applications based on the minimum requirements.
Choose the best candidates for the job based on qualifications such as experience, certifications, technical competence, domain knowledge, and other skills.
Shortlist the candidates who meet both the minimum and preferred qualifications.
Finally, mark the questions or concerns in the resume that needs to be addressed.
Without a doubt, the most challenging task of the recruitment process is reviewing applications. Fortunately, with the assistance of an applicant tracking system (ATS), this complicated and time-consuming process can be simplified.
Shortlisted candidates will be interviewed before receiving an offer or rejection letter. Schedule several interviews based on the size of the hiring team and their recruitment needs. Typically, the interviewing process consists of three steps:
Telephone/Video Interview: This is a quick and straightforward method of interviewing candidates. It is your first opportunity to make a lasting impression on potential candidates. While the initial interview should be brief, assessing candidates' knowledge, skills, and experience is critical. In addition, it will also aid in the removal of irrelevant applications.
Psychometric Testing: This is an essential step because the information shared during this process will assist you in determining whether the applicant will perform and remain productive in the long run. This test can serve as a model for you because it assesses the candidate's behavior, communication, creativity, flexibility, personality, and problem-solving abilities.
Face-to-face Interview: This interview tends to last longer because it is conducted by top management personnel, and it is the final step before offering the job. Only a few candidates are chosen from the slew of applications for this interview. At this point, the final choice, as well as a backup candidate, must be accepted.
Evaluating and Making an Offer

It is the final stage of the hiring process. Once you've decided on a candidate, you should do the following:
Examine the candidate's professional references and double-check all of the information.
The job title, details, company name, compensation, and other pertinent information must be included in the offer letter.
Every new employee experiences anxiety on their first day. Ensure to show them around the office and have all the necessary information and tools on hand. Make them feel welcome and introduce them to coworkers.
The New Employee's Introduction and Orientation

When an applicant accepts an employment offer, they become an official employee of the company. It is always important to have an effective employee onboarding process for the smooth and effective onboarding of the new recruits.There are a few more steps to take:
Introduce the new employees to the organization after they have been verified.
The new employee's orientation then begins.
During the orientation program, provide the employee with a welcome kit, and the employment contract is signed.
The recruitment process is completed once the employment contract is signed. The new employee is now starting work in the organization.
Create An Effective Recruitment Process
A good recruitment process makes it easier to find qualified candidates quickly and efficiently. As a result, the recruitment process necessitates careful planning and ongoing analysis. The following are the primary qualities involved in creating an effective recruitment process:
Improve Automation: Use an applicant tracking system (ATS) to help you automate your requirements. For example, you can automate platforms where you post job openings, track the number of applicants, and sort resumes to find the best candidates. With all of the time saved from manual labor, you will have more time cultivating your relationship with potential candidates.
Video Recruitment: When conducting interviews, it is critical to investigate the candidate's personality and determine whether they are a good fit for the organization. Though face-to-face interviews are the most commonly recommended method of interviewing, video recruitment is an effective method of interviewing as time and technology evolve. As a recruiter, you must ask critical questions to determine the candidate's quality. If candidates fail to demonstrate their best abilities, the recruitment process will be hampered.
Form Data-Driven Selection: Invest in a comprehensive system that will allow you to track the number of applicants, the number of candidates interviewed, the backgrounds of the best candidates, and much more. Speculating on the method every time you hire a new employee will improve the system.
Create an Employee Referral Program: Creating an employee referral program can benefit both employees and organizations. It allows the employee to participate in the recruitment process and assists the HR team in finding qualified candidates for the job. The organization can save time by sifting through hundreds of resumes and scrutinizing applications that fit the job. Organizations that use their employers' connections have a tenfold larger talent pool to draw from.
Create a Transparent Employer Brand: Hiring is a two-way street. Your company should do the same by narrating the brand, story, morals and values, vision, and mission to the candidate in the same way that candidates share their educational background, work experience, skill sets, and much more. It explains why the candidate should work for your company. Make sure the company's vision and mission are visible on the website and social media pages. It would be advantageous to establish a significant brand value online as the candidate lookup for your company.
These elements improve the steps of any organization's recruitment process. If these qualities are overlooked, the recruitment process may not be as effective as planned.
Conclusion
If you follow these steps and recommendations, you will have no trouble finding a qualified candidate for your organization. The recruitment process may be complex, but it will be well worth your time and effort once you have found the right candidate.
Do you want to know how to improve the recruitment process without putting too much pressure on yourself? For example, Carbonate HR is a complete HRMS tool that helps you to automate the recruitment and selection process and eliminates the need for manual labor. So, why invest in multiple pieces of software when you can invest in one that does the work of several?