Leaves just got a makeover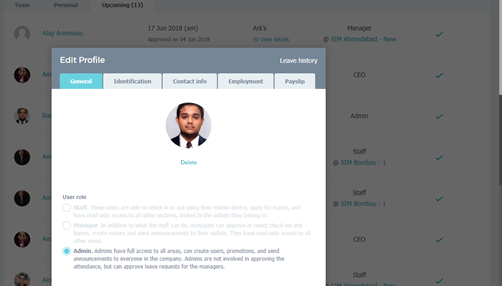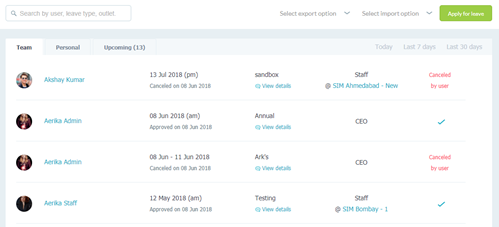 Carbonate, the HR application that we all know and love now comes new and improved!
Significant additions and improvements have been made to the Rostering, Leaves and Settings components of the application.
This series of blog posts covers these updates and today's blog post will guide you through some of the hot new features of the Leaves section of the Carbonate application.
Easy on the eyes
Similar to the updates to the Dashboard section which we covered last week. The new and improved Leaves section features advanced linkage, clarity, and interconnectivity between different parts of the Carbonate application.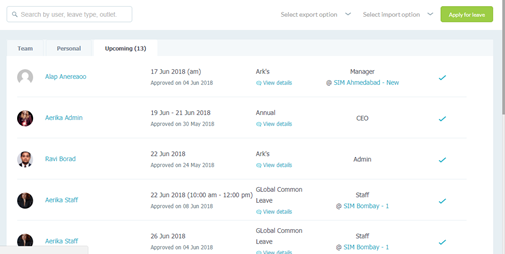 Once you select Leaves from the main menu to the left of your view in the web app, you will be greeted by the main Leaves section. Here, you'll notice a few options. The section is divided into three parts, Team, Personal and Upcoming. There is also a search bar where you can search by user, leave type or outlet.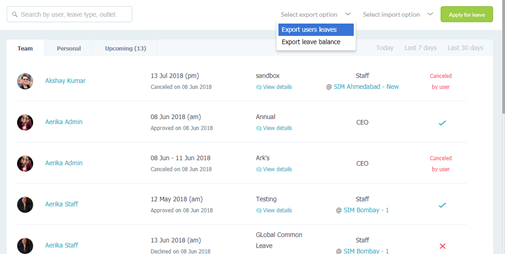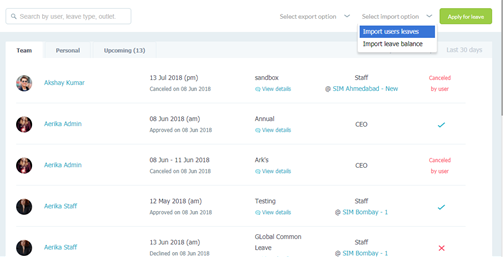 Aside from these, you can also find the big, green Apply for leave button as well as options to import and export your data. You can export/import your data by user's leaves or leave balance.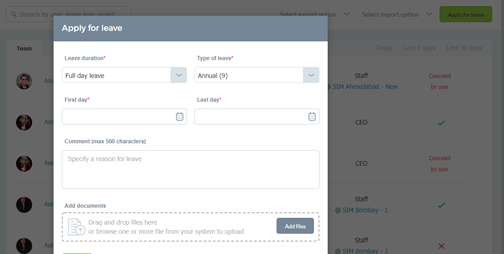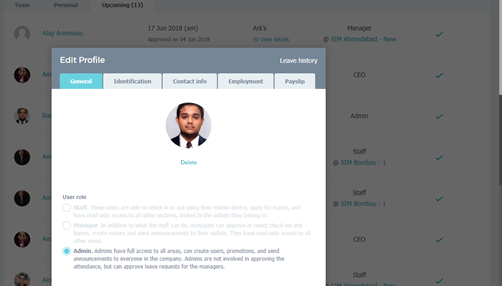 When you click on the prominent Apply for leave button, you will be able to apply for leave by selecting a leave duration (Full day leave...etc) from a dropdown, Type of leave from a dropdown and filling in other relevant data. You can also attach files/documents to the application and add comments to leave applications. Hourly based leave can now be applied for in your new and improved Carbonate system.
Centered around people, you will notice that this page is built around a listing of relevant staff. These make up a core component and here (because clarity is one of the driving factors of the update) you can view data for today, the last 7 days and the last 30 days. The focus of this page draws users clearly towards whether or not a particular person's leave has been approved. Important dates such as dates of approval or cancellation can also be clearly seen as well as member designations.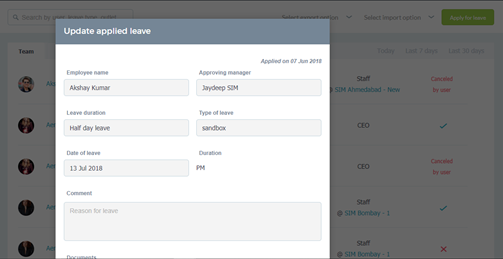 In the Update applied leave box, relevant info related to the leave can be found such as Leave duration and Approving manager.
Leaves Management now gives you a detailed "New Leaves" setup with Types of leave policies in the leave setup.
You can deal with Annual increment of leaves policies and decide on Annual leave increment (calendar cycle or employment anniversary).
The management of leaves policies (which can sometimes be a headache) just got easier through the ability to manage Company based leaves policies as well as Childcare leaves, Birthday leaves, Off in lieu, Working on public holidays policies…etc.
You also get more advanced segmentation such as by Rank with Rank-based leaves allowance/increment and Rank based carried forward leaves.
In Carbonate, you can now manage Leave notice period, Expiry of carried forward leaves and which leave type to be used first (Carried forward & annual leaves)
Profiles can be viewed and edited easily and display everything from General info such as User roles to Payslip...etc. You can also deal with individual leave management within a user profile and manage leave history visibility of each leave type.
With added personalisation, there is also the option to show/hide leave balance of leave type to the user and also manage Leaves notifications, Expiry of carried forward leaves and Reminder of pending leaves approvals.
A smarter HR system for a smarter business: Carbonate helps you keep track of attendance and leaves in your company, and keeps you connected to your staff with its built-in broadcasting and promotion messaging tool. Its employee profiles and HR leave management system meet MOM 2016 Employment Act Amendment requirements. Click here to find out more.