HR Costs and Strategic Ways to Reduce Them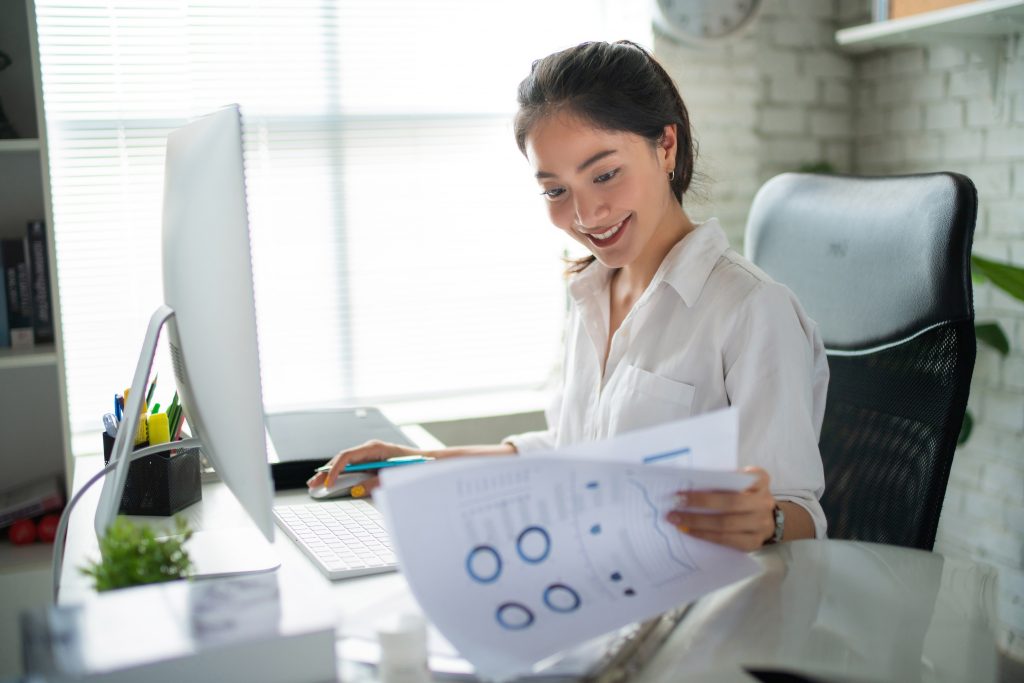 The Human Resource Department of any firm is responsible for a plethora of tasks that include but are not limited to recruiting, planning and budgeting for employee training and developing employee-related company policies. In a nutshell, the HR department superintends the company's most valuable asset, their employees.
 Of course, there are costs associated with the operations of the Human Resource Department. This article highlights the ways in which Human Resource Management Software (HRMS) can be used to optimize HR costs. 
Before moving on to exploring the cost-minimizing benefits of HRMS, let's first have a quick look at what are the different types of HR costs. 
What is HR Costs?
Human resource costs are those associated with recruiting, hiring, training, and retaining employees. They can also include the costs of employee benefits programs and other compensation-related expenses. These costs can vary significantly relying on the size and scope of a company's operations. HR costs can also be impacted by factors such as the local labour market, the type of business, and the specific skills required for open positions. Many businesses view HR costs as a necessary evil.
Recruiting costs are typically one of the largest categories of HR expenditures. These expenses can include advertising, headhunter fees, and travel expenses for candidates who are interviewed but not ultimately hired. Training costs can also be significant, particularly for new employees or those who are being trained for new roles within a company. Finally, companies must also budget for employee benefits, which can include health insurance, retirement plans, and other perks. There are further additional costs related to HR management, let's discuss each separately in more detail.
Types of HR costs
Human resource costs can be categorized into five main segments.
Recruitment costs

Retaining costs

Training costs 

Employee benefits

HR-related admin costs.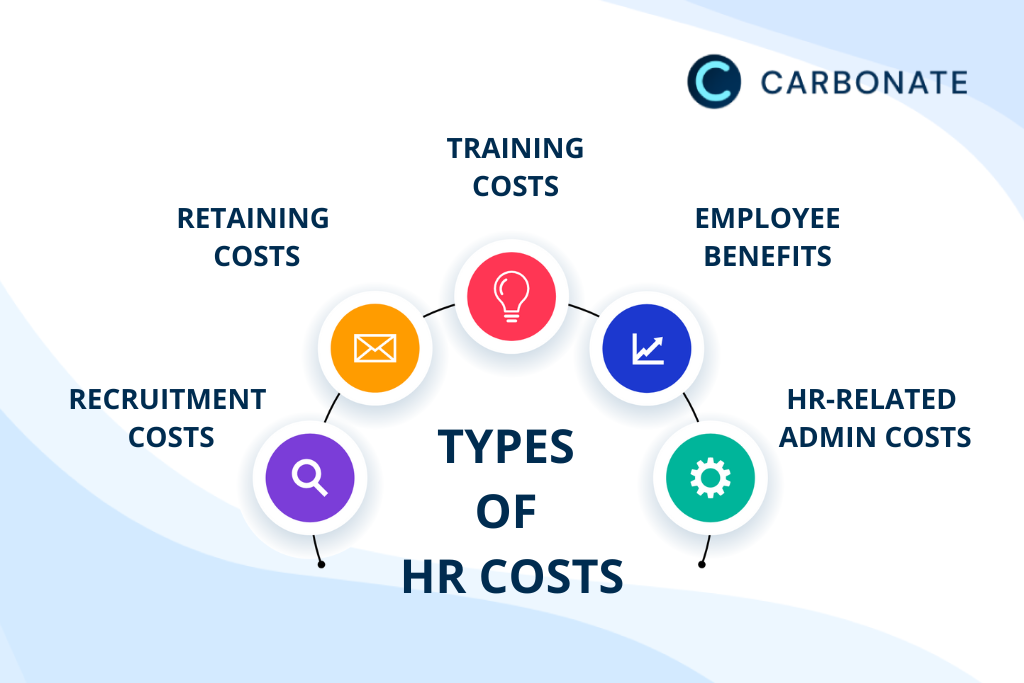 Recruitment costs
Recruitment costs can be a significant expense for any company. Depending on the size and scope of the business, these costs can range from a few hundred to several thousand dollars. There are many different factors that contribute to the cost of recruitment that includes
Advertising

Headhunters

Interview expenses. 

In some cases, companies may also need to pay relocation costs for new hires.
The best way to control recruitment costs is to have a clear understanding of what your needs are and what you can afford to spend. Be sure to develop a budget for your recruitment efforts and stick to it as much as possible. You may also want to consider using an outside agency or consultant to help with your recruitment process. This can save you both time as well as money incurred.
Employee retaining costs
When it comes to employee retaining costs, organizations need to consider various factors such as wage levels, employee benefits, and other associated costs. In most cases, these costs are higher for highly skilled employees. For organizations looking to keep their top talent, it is important to offer competitive wages and benefits packages.
Additionally, offering perks such as flexible work arrangements and telecommuting can help to offset some of the cost associated with retaining employees. By offering these types of benefits, employers can help to reduce employee turnover and save on recruitment costs in the long run.
Training costs
Assuming you're looking at the average cost to train a new employee, it can vary greatly depending on the industry. For example, according to a study by the American Management Association, it costs employers an average of $1,252 to train a new hourly worker. The same study found that the average cost to train a new salaried employee is $4,129. 
However, these numbers will differ based on company size and other factors. Generally speaking, larger companies tend to have higher training costs than smaller businesses.
It's also important to consider the type of training that's being provided. For instance, on-the-job training is typically less expensive than formal classroom instruction or online courses.
Employee benefits cost
As your business grows, so too will the number of employees you have. Along with this growth comes an increase in the cost of employee benefits. While some businesses may be able to cover these costs on their own, others may need to seek out financial assistance.
There are a number of ways to finance employee benefits. One option is to use business credit cards. This can help you manage cash flow and keep track of expenses. Another option is to take out a loan from a bank or other financial institution.
Whatever method you choose, it's important to shop around and compare rates before making a decision. You'll also want to make sure that you're getting the best possible terms for your business.
HR admin costs
Last but not least, HR- admin costs include the costs of maintaining employee data, HR team salaries and operational costs. The cost of HR administration can be significant for businesses of all sizes. Here are five tips to help reduce those costs:
Automate where possible. automating HR processes can save time and money.

Outsource non-essential tasks. consider outsourcing tasks such as payroll or benefits administration.

Use self-service tools. give employees the ability to access their own HR information and update their records themselves.

Streamline communication. use technology to streamline communication between HR and employees.

Review your policies and procedures regularly. make sure your policies and procedures are up-to-date and efficient.
Cost Reduction Benefits of using HRMS
In addition to reducing the workload of the HR team, HRMS allows firms to reduce their HR costs in the following ways:
Recruiting in itself is a tedious and costly affair. Recruiting the wrong person for a job, however, costs even more to the firm as it reduces the overall efficiency of the firm. Recruitment management systems offered by customized HRM software enable firms to publish job opportunities on different online platforms, hence, enabling them to gather CVs more efficiently with an increased number of applications for each position. Specialized recruitment software also provides useful statistics about job applicants, which helps reduce the time spent scrutinizing applicant CVs manually. This helps reduce the administrative costs associated with the recruitment process. 

Recruitment management systems such as the ATS (applicant training system) allows the firms to compare the applicant traits to those of existing high achiever employees hence, allowing the employers to make better and well-informed recruitment decisions.

The Employee Portal allows employees to manage their holiday or sick leave applications through the software, giving them more independence. The portal also allows employees to check in their time-in and timeout virtually and digitally, even when they are working from home or are travelling for work-related purposes.

This system increases the efficiency of the HR department in handling leave applications and queries regarding holidays through the software, as compared to manual operation. This also eliminates the chance of human error in regards to overlooking any specific leave requests.

This information is stored online and is made use of for payroll calculations.

Timekeeping is a feature offered in some HRMS that allows for the HR team to digitally monitor the time-in and timeout for all employees. This feature provides statistics that help the HR team determine which employees need to improve their punctuality and which employees need to be rewarded for their overtime hours.

Payroll management allows firms to digitize the entire process of payroll management that includes collecting information regarding any changes required in the payslips, tracking incidences, separating pay slips for temporary and permanent employees, recording medical reports and forwarding payroll information to the accountant for salary disbursement. This results in a significant decrease in the workload of the HR team as well as HR-admin costs as manual record keeping of leave applications and holidays can be a tedious task that adds to administrative HR costs.

Employee data log reduces the administrative costs associated with manual record-keeping while also saving the time required for manually updated employee records.

Performance management software allows the firm to digitize the process of evaluating the performance of each employee by monitoring their achieved targets along with the feedback from colleagues. 

Reporting and analytics feature allows the HR teams to generate various meaningful reports to keep a tab on employee performance. For example, this feature can provide data about the regularity and punctuality of an employee, which can be a key indicator for evaluating an employee's performance.
In addition to the above-mentioned benefits, HRMS can be customized to allow for other cost-optimizing benefits such as managing training session logs for each employee. Since it is not a hidden fact that setting up training sessions for the employees is a crucial part of human capital development and has a direct impact on the improving efficiency levels of employees.

However, it is a costly affair. With the help of customized HRMS, training logs can be kept that would allow the firm to keep track of employee training and avoid repetition or irrelevant training for each individual employee. 

HR software also allows firms to maintain a log of an employee's individualized information such as their tenure with the firm, the compensations that they received and the duration since their last promotion.

This information is then processed by the HRMS to calculate the 'flight risk' of each employee, hence, enabling the firm to plan its retention strategy for each employee.
Conclusion
In essence, it is safe to state that HRMS can be effective for HR cost reduction as well as improving the efficiency of the HR department. Such a system can also eliminate the risk of human interference in giving certain favours to specific employees and helps improve the levels of transparency and accountability. It has several other benefits as mentioned above, which can enhance the productivity of an organization and reduce HR costs. HR costs can be reduced significantly by moving to an advanced management system that refines the processes and limits actual human intervention, thus making it easier to achieve desired results.