5 Effective Tips for Creating Perfect Employee Roster
Employee roster is a schedule often called a rota or roster, a list of employees and their detailed assignment regarding location, working hours, and tasks. It is advantageous for every workplace or business to have a perfect roster to maximize efficiency and achieve goals more effectively.

A good roster planning has a vital role in ensuring that each shift has enough employees to keep the business operation run efficiently and smoothly throughout the working hours. Otherwise, it can lead to an understaffed environment with unprepared employees having to fill in vacant time slots or stumble into last-minute overtime. 
Hence, as vital rostering tips, the scheduling manager must be aware of the consequences and create a better plan to keep everything running smoothly and productively. It can save a whole lot of difficulties or burdens for both employees and employers.
Cross-finger on its effectiveness; check out these tips for creating a perfect employee roster.
Use a Reliable Roster Software
The human brain has limitations and with many responsibilities at hand, being forgetful is inevitable. Unless you have a reliable memory, you need to use reliable roster software. Having features such as Remote Worker Time, Attendance Tracking Software and Roster module, the perfect and reliable software must easily manage employees shift schedule, attendance, compensation and other data. 
With its essential data, the software must have an automatic backup system and must be user-friendly. 
With these, one of the most reliable roster software is Carbonate. Carbonate features a roster module that can be customized to the needs and preferences of the company. It has a better user experience because it is easy to navigate, and user guides are readily available. 
It has many features, such as sending notifications for check-in and check-out time, viewing the roster module on the employee side and many more. Whether you are a hotel, a hospital, a restaurant, Carbonate can help you make a work schedule for employees and manage the rostering task in just a few clicks.  
Plan out Employee Roster Templates
It is suggested that before adding some employees to your business, you must first cope up with building or creating better team roster templates that help to organize the employee's data and other pieces of information needed. It somehow includes spaces for names, dates, positions, contact info and more. 
Similarly, when planning out the template for employee work schedule, it is necessary to consider the detailed and realistic budget to ensure that everything must operate within your workplace and systems, manage unexpected challenges and turn a profit. A proper budget will then identify available capital, estimate expenditures and anticipated revenues.
Learn to Mix and Match Employees for Maximum Efficiency
Employees Rostering is not just about putting names and assigning them to whatever shift. To create a perfect roster, you need to learn to mix and match the employees. It is similar to fashion, where you need to find an ideal balance with the outfit to achieve a better look. In business, you need to learn whether the employees work well with a particular team or work in harmony with a specific co-employee. 
This way, it helps employees feel more comfortable expressing concerns and needs, which leads to more effective communication. This can build your workforce to get on the same page, smoothly work together, and increase their motivation to complete tasks given promptly. In other words, productivity can rise.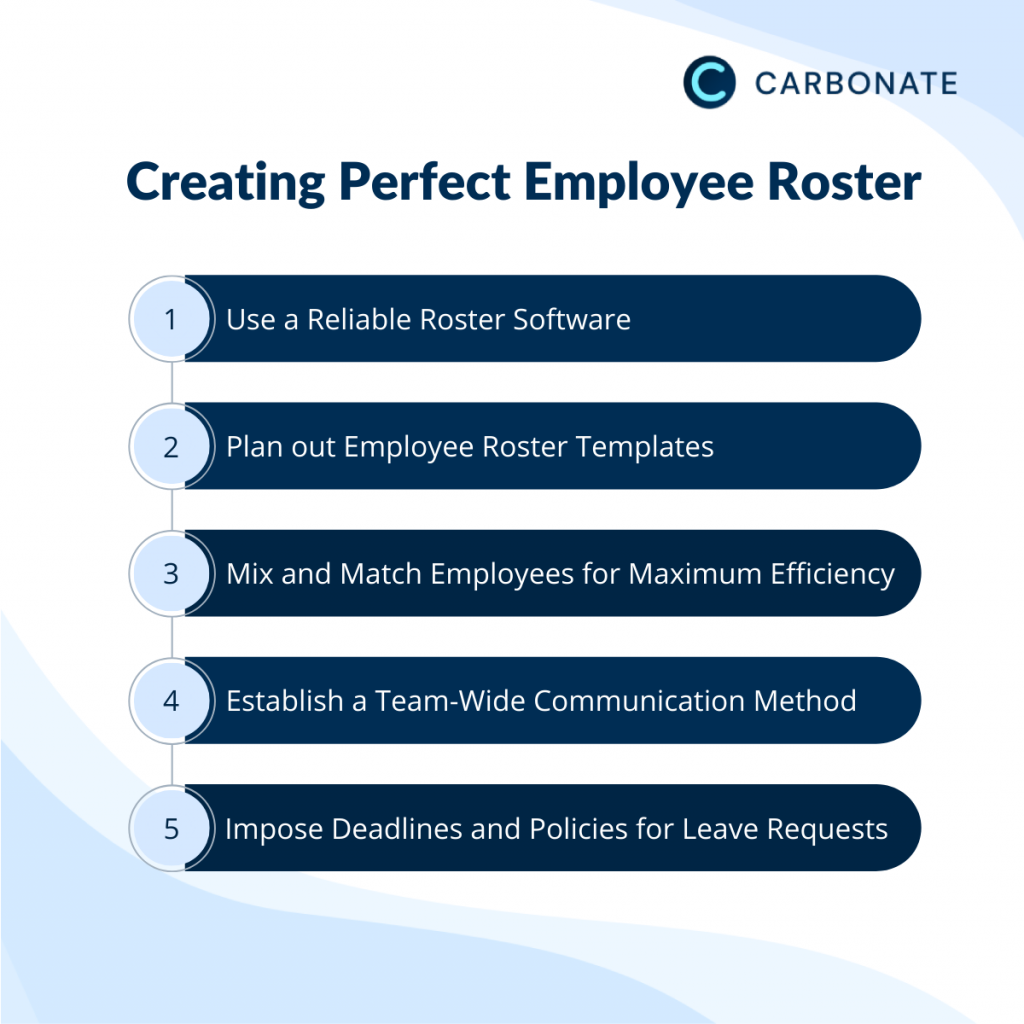 Another way is to pair up those who have enough knowledge and experience and those who have not, for them to acquire and learn bit by bit that will also lead to better teamwork for best outcomes. This is how to make a roster, especially during peak times and peak season.  Otherwise, an inexperienced team will have a drastic negative effect on your business, especially handling objections and other concerns.
Allow Employee Access to Roster for Work and Establish a Team-Wide Communication Method
Establishing a team-wide communication method within a group or organization builds common goals among team members. Good communication can help team members develop a sense of belonging and strengthen relationships within a team, creating harmony, which could result in maximum efficiency.  
In Carbonate, you can allow the employee to access and view the roster. While it establishes good communication between the employee and company, it also leads to being well-informed. It makes the rostering seamless, and notifying employees is even faster because of its notification feature. This is how to roster staff effectively.
Impose Deadlines and Strict Policy for Submitting Leave Requests
Deadlines help us to collaborate toward achieving a shared goal effectively, and to keep complex, multistage projects on track with the set expectations. Deadlines make clear what is expected to deliver and when. Adequate rostering staff means that we can control our work, free of confusion. Imposing deadlines for time-off requests, leaves, and work preferences are necessary for a business. 
You can set a time frame for when requests can come in to avoid making sudden changes and rushing an employee to go to work. It also helps prevent people from making requests for the following year when some employees that will be working haven't even been hired yet. Hence, it avoids convenience on both parts of the company and employees. This is also how professionality and equality work in businesses, especially in duty rosters.
Bottom line!
In creating effective staff rostering, there are many things to consider to ensure maximum productivity. Like in other business aspects, employee roster must be planned appropriately because it is crucial to ensure that an environment provides high quality, safety in staff working hours, and the company allocated budget.
With the aid of an automated system such as Carbonate, the scheduling manager can do the rostering task more effectively. The roster module is a helpful feature to ensure that the company operates efficiently and avoids untoward incidents caused by ineffective employee rostering. 
It even helps the scheduling manager speed up rostering, especially on notification, computation of compensation, processing leaves and work preferences and many more.  
Visit Carbonate now and learn more about how it works!