What is the Role of Artificial Intelligence in Human Resources Management?
Artificial intelligence (AI), hitherto thought to be a concept straight out of a fiction movie, is rapidly changing workplaces across industries. And HR is no exception. With companies across the board adopting newer concepts and ways of working, Artificial Intelligence in HR is now a bigger need than ever before. HR professionals must understand how it changes the way we interact with employees.
What is Artificial Intelligence?
AI is a technology that allows computers to learn, make decisions, or recommend actions based on previously collected data/information. When it comes to Artificial Intelligence in HR, this technology is implemented in multiple ways to streamline HR-related processes and improve their efficiency.
Till recently, AI in HR was predominantly used to automate manual, repetitive, and time-consuming tasks. But the emergence of smarter AI-driven technologies has enabled HR teams to make business-critical decisions, exponentially improve performances, and even impact business profitability. So, the role of AI in HRM has transformed from being just an administrative tool to something more strategic and mission-oriented.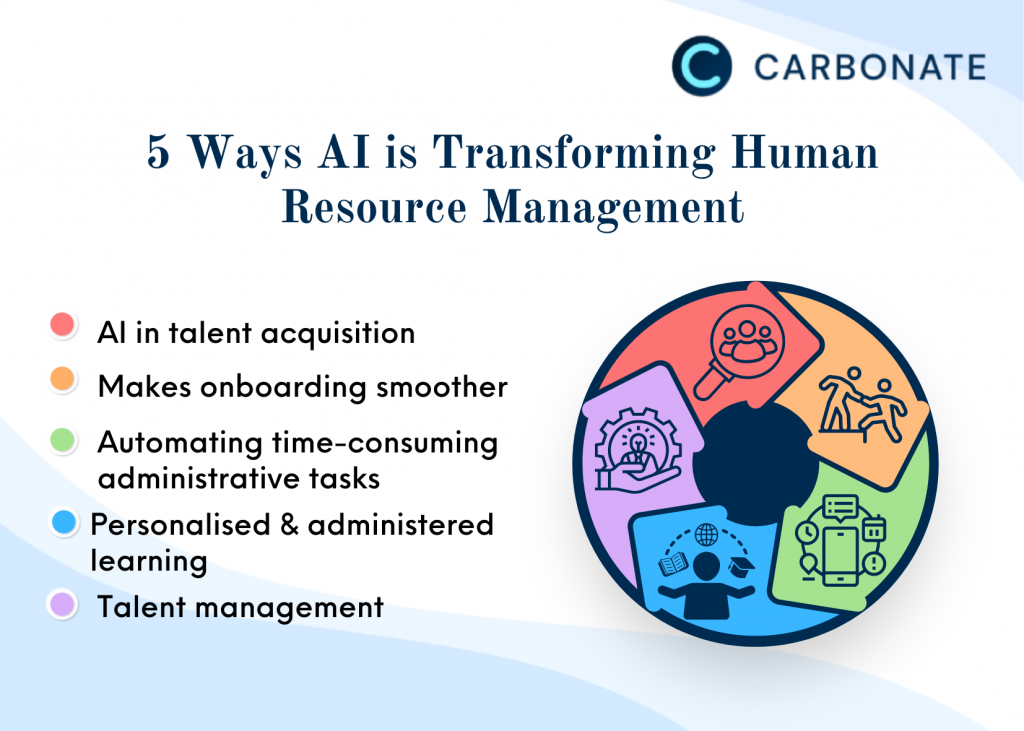 5 Ways AI Is Transforming Human Resource Management
One of the most overwhelming benefits of AI in HR is its ability to make real-time decisions based on pre-installed algorithms. This results in HR processes that are not only automated and augmented, but also amplified to provide better process efficiencies and customer experience (in this case, employees). Improved and advanced AI technologies are transforming the HR space. Here's how:
AI in talent acquisition
One of the most important aspects of HRM  that AI has revolutionised is talent recruitment and acquisition processes. From candidate screening, scheduling interviews, and communicating important information, to answering queries from the candidates, AI in HR recruitment and acquisition has proved to be a real boon. This not only hastens the recruitment process but also makes it more efficient as AI-led algorithms sift candidates better based on the data fed.
Makes onboarding smoother
AI-enabled programs make the onboarding process smoother by completing tasks quickly and efficiently, that otherwise would take weeks. Processes like documentation, providing important information related to the organisation, highlighting company policies, introducing fellow team members, and designing training programs to familiarise the new candidate with their roles and responsibilities, AI can do it all effectively. A smoother onboarding process helps in better integration of a new employee into the organisation.
Automating time-consuming administrative tasks
The administrative wing of the HR department is known for processes that can be extremely time-consuming. But AI in HRM can bring about a sea change by automating most of these administrative tasks. Things like holiday entitlement, absence management, performance data,  leave applications and timesheet management can be automated. It also automates the payroll processes like salary monitoring, pay information, ranking, promotions, attendance, shift scheduling, etc., leaving the HR personnel with enough time to concentrate on more strategic issues.
Personalised & administered learning
Upskilling is something that many organisations are looking at in order to better prepare their employees for future demands and competition. But it is not just about providing random training programs. Instead, the employees should be provided with smartly designed courses depending on what an individual employee needs, their career progression, what the organisation expects from them, etc. This personalised learning experience helps in better employee performance.
AI can help you to create these personalised training programs, modify courses, and develop new ones based on employee learning styles, requirements, and expectations. 
Talent management
As AI enhances the talent acquisition process, it has proved to be equally efficient in helping organisations retain high-quality employees. It also helps in skill development and motivates employees to stay longer with the organisation.
By studying and evaluating employee data including pay, rewards, appraisals, performance scores, etc. companies can be better prepared for attrition before they happen. Organisations can also re-strategize their employee handling plan if they sense any such developments.
Challenges of AI in Human Resource Management
It is quite evident that AI in HR will provide ample benefits to the organisation and things will only get better from here as the technology is evolving at a neck-breaking pace. Still, there are certain challenges that organisations must be prepared to face:
Safety and ease of usability remain major concerns even today. A lot of organisations are hesitant to adopt AI in HR over security concerns.

A survey done by Oracle showed that

31 per cent of employees said

they would rather speak or connect with a human than engage with a machine. So, HR personnel must strive to face such issues and continue to remain relevant.

Missing the human touch and lack of emotional connection remains AI's biggest challenge in HRM. The

HR

department is all about managing people and while a machine can be extremely efficient, it can't be emotional.

Lacks ethical decision-making. With the world becoming more inclusive, companies might want to hire people from different backgrounds to develop a more inclusive workplace. But AI might not be able to identify this while implementing recruitment strategies.
Wrap Up
Artificial Intelligence in HR is making workplaces smarter, and more efficient while empowering them to take better care of their employees. As technological advances make AI even more intelligent and add a more human touch to machines, today's organisations must utilise this technology and reap its benefits.
From smart recruitment to personalized learning and training programs, AI in HRM is creating future HRs where tech-driven efficiency and human-lead emotional connection go hand in hand.